Beyond Panic? Re-envisioning climate migration
The conference is organized by the PhD Students Association - ADIBO in collaboration with the DEAR project #Climate Of Change, led by WeWorld together with 16 partners including Bologna Municipality and with scientific input from the University of Bologna. Across a series of interdisciplinary sessions academics, activists and NGO communication experts will reflect on the complexities of the climate crisis and migration.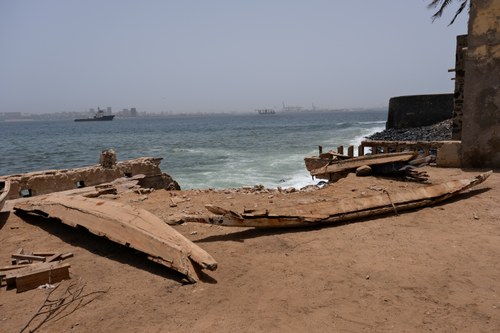 Costal erosion, Gorée Island, Senegal. Ph. Elena Giacomelli
When: Thursday 18 November 2021 from 9:30 to 18:30
Where: Sala Cappella Farnese, Palazzo D'Accursio, Bologna
Please register here
Watch the event on-line with Zoom
For more information on #Climate of Change, check the project website!
Con il contributo dell'Alma Mater Studiorum - Università di Bologna
Scientific Committee: Prof. Pierluigi Musarò (coordinator), Prof. Matteo Vittuari, Prof. Marco Borraccetti,  Prof.ssa Elisa Magnani, Dott.ssa Elena Giacomelli, Dott.ssa Elisa Iori, Dott.ssa Susanna Villani, Dott.ssa Sarah Walker.