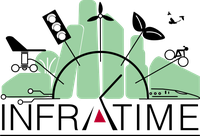 Starting October 14th 2021, the H2020-MSCA-IF "INFRATIME" project inaugurates a seminar series on "Real-time, long-term, deep time. Timescapes of the Anthropocene and Climate Change in smart urbanism and urban transitions". The seminars will be taking place every three months until the end of the project in October 2023, on specific topics connected with the development of the research work.
OVERALL AIM
The seminar series aims to promote a transdisciplinary dialogue on the interplay of digital, urban, and climate transitions from a temporal perspective. In particular, it focuses on the interferences between real-time management, long-term visions and casting, and deep time. The seminars aim to bring to the fore the key role of infrastructuring time in smart urbanism and urban transitions, paying attention to the material, infrastructural, and more-than-human aspects of transitions, as well as the multiple temporalities they enact. The focus is on the idea of transition as translation, not simply a linear step from an unsustainable past to a viable future but a way to reshape and reshuffle past, present and future and articulate non-linear tempos and speed.
SEMINAR SETTINGS
The seminars will be held online for the time being. More information will be sent to participants registered through the registration form. No fee is requested.